At a time when many people have economic matters on their minds, St Luke's Gospel has done us a wonderful service in putting two episodes involving tax collectors in quick succession. Last week we had the parable of the Pharisee and the Tax-collector, now we have the appearance of Zacchaeus.
'Jesus entered Jericho and was passing through. And there was a man named Zacchaeus. He was a chief tax collector and was rich. And he was seeking to see who Jesus was, but on account of the crowd he could not, because he was small of stature.' (Lk 19:1-3)
Zacchaeus is a chief tax collector. He is someone who was despised, because he has become very rich by over-charging people. To start with, Zacchaeus is just curious about Jesus, he wants to see what all the fuss is about, he wants to see this miracle-working charismatic preacher for himself.
'So he ran on ahead and climbed up into a sycamore tree to see him, for he was about to pass that way.' (Lk 19:4)
However, Zacchaeus is unable to see over the crowds and so he climbs up a sycamore tree. Zacchaeus' deep desire to see Jesus leads him to act in a way one would not expect from a chief tax collector. One cannot image any one of the wave of recent Chancellors shinning up a tree!
'And when Jesus came to the place, he looked up and said to him, "Zacchaeus, hurry and come down, for I must stay at your house today." So he hurried and came down and received him joyfully.' (Lk 19:5-6)
Here in a few verses we have the beginning of the story: Zacchaeus wants to see Jesus, he climbs a tree and, unexpectedly, he ends up being told that he has to welcome Jesus as a guest into his home. At a practical level, Our Lord was travelling through the Judaean countryside and would have needed to rely upon the hospitality and generosity of others for food and rest. But beyond the level of practicalities, Jesus clearly wants to use this as an opportunity to display the reality of the Kingdom of God and to teach people through His actions.
'And when they saw it, they all grumbled, "He has gone in to be the guest of a man who is a sinner."' (Lk 19:7)
Jesus' choice of Zacchaeus' house as a place to stay does not please the crowd. They are upset and question Jesus' decision. Being unable to see beyond outward appearances, they judge Zacchaeus. The crowd simply sees a sinner, they do not see someone who wants to see Jesus and love Him. Their response is understandable: Zacchaeus is rich because he has cheated people. As a chief tax-collector, he would have had people working under him, who also contributed to his comfortable financial situation. Zacchaeus is basically a crook, but his encounter with Jesus makes him want to radically change.
'And Zacchaeus stood and said to the Lord, "Behold, Lord, half of my goods I give to the poor. And if I have defrauded anyone of anything, I restore it fourfold."' (Lk 19:8)
The simple presence of Jesus has a totally transformative effect on Zacchaeus, who pledges to give away half of his property to the poor, and promises not only to repay those whom he has defrauded, but also to give them compensation. This is clearly a major step in the right direction. Zacchaeus has realised that he has done wrong, and is trying to put things right, to the best of his ability. In doing so, Zacchaeus is demonstrating repentance. This allows Jesus to teach the people:
'And Jesus said to him, "Today salvation has come to this house, since he also is a son of Abraham. For the Son of Man came to seek and to save the lost."' (Lk 19:9-10)
The Son of Man has come to seek out and save the lost, to show people that there is another way to live. Here we see the love of God in action — this is what happens on the Cross. God demonstrates the transforming power of His love, love shown to the unloveable, so that they might become lovely. Jesus has come to seek and save the lost, people like Zacchaeus, and like each of us here today. Zacchaeus' story is one of repentance, and belief in Jesus, in contrast to the crowd who are bitter and judgemental, rather like the Pharisee in last week's parable. In focussing on the past, they cannot see future potential. People can change, for the better. It is through God's grace, an undeserved gift, that people like Zacchaeus can be changed, transformed by God and for God. What was true for him then is true for us, here, today.
This morning's first reading, from the Book of Wisdom, makes this clear:
'But you are merciful to all, for you can do all things, and you overlook people's sins, so that they may repent. For you love all things that exist, and detest none of the things that you have made, for you would not have made anything if you had hated it' (Wisdom 11:23-4)
God is a God of love and mercy, who longs to see humanity turn away from sin, and flourish. This is what we are made for.
This is why, as Christians, we pray. It is why we come to the Eucharist each and every week to be fed by word and sacrament, so that God's grace and transforming love may be at work in us, re-creating our nature, making us more like Him. Everything that we say, or think, or do in our lives needs to be an outworking of our faith, so that our exterior life and our interior life are in harmony with each other. Then our lives, like St Paul's, may proclaim the Gospel. This is what we are called to do, and how we are meant to live. If we start from the point where we know, and acknowledge, our need of God and allow ourselves to rely upon him, we will open up a space in ourselves where God can be at work in us, in our souls and our lives.
So let us put our trust in the God who loves us and who saves us, Let us know our need of Him, and His transforming grace, to fill our lives and transform all of His creation, so that the world may believe and sing the praise of God the Father, God the Son, and God the Holy Spirit. To whom be ascribed ,as is most right and just, all might, majesty, glory, dominion, and power, now and forever. Amen.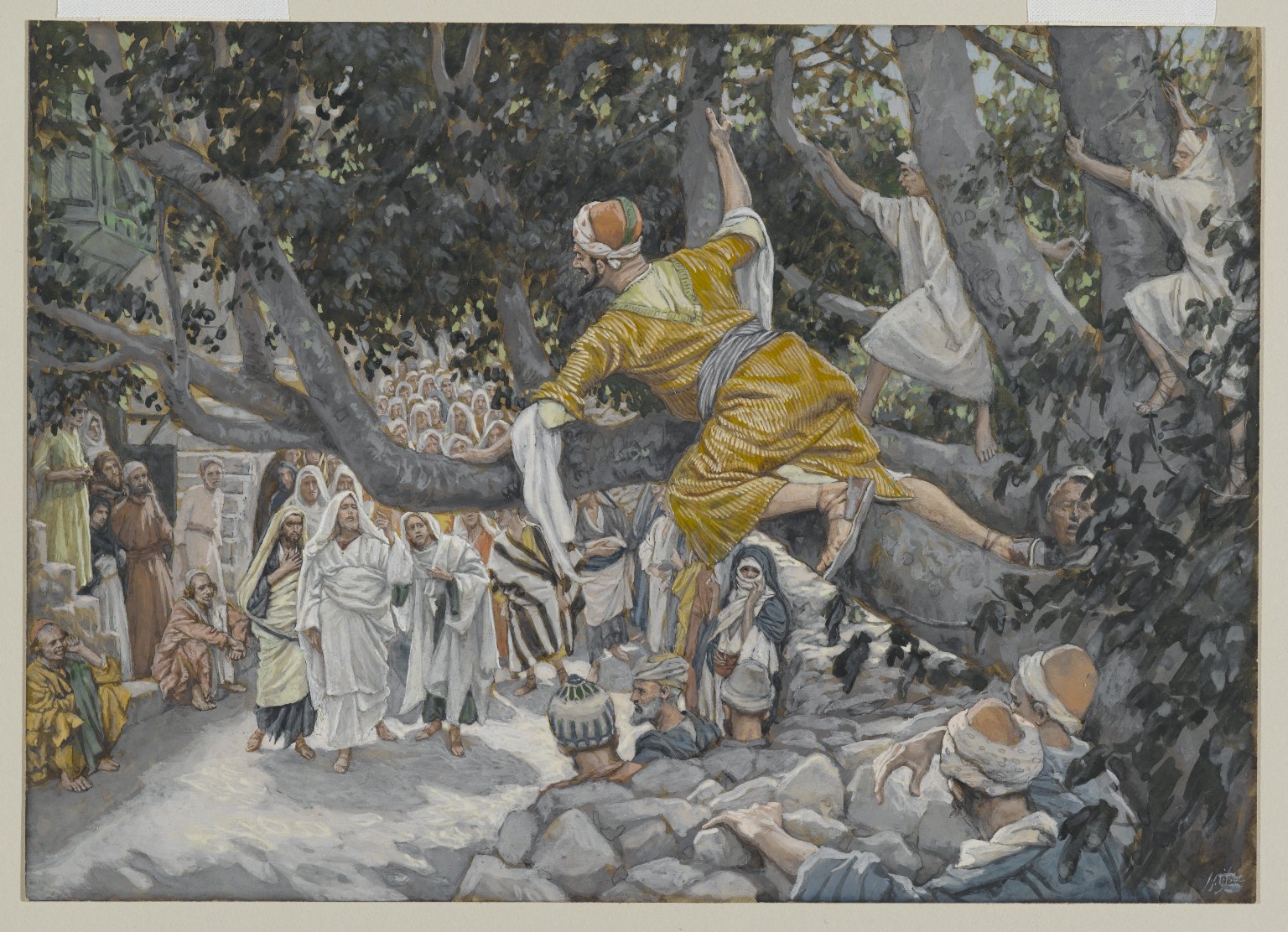 Zachée sur le sycomore attendant le passage de Jésus – James Tissot [Brooklyn Museum]